National Immunization Awareness Month (NIAM) is an annual observance held by the Centers of Disease Control and Prevention. During the month of August, there is a focus on the importance of vaccination for the human population. On-time immunizations play a role in preventing serious disease for people of all ages.
Just like for people, immunization for animals is also important for the health of our pets at all life stages.
What Vaccines Does Your Dog Need?
Core vaccines

Rabies
DHPP (this includes 1) distemper 2) parvovirus 3) adenovirus and 4) parainfluenza)
Leptospirosis

Non-core vaccines

Bordetella (kennel cough)
+/- Lyme

What Vaccines Does Your Cat Need?
Core vaccines

Rabies
FVRCP (this includes 1) feline herpes virus, 2) feline calicivirus, as well as 3) feline panleukopenia virus, which is also known as distemper)

Non-core vaccines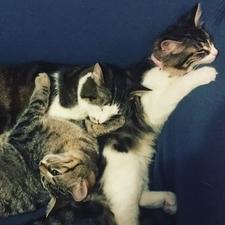 A series of vaccines are required to achieve immunity. Immunization against core vaccine DHPP and FVRCP is generally given to puppies and kittens respectively every 3-4 weeks between the ages of 8 and 16 weeks. Very young puppies/kittens have maternal immunity (antibodies from their mother), which fades in the first few months of life. Early on, maternal immunity will block disease, as well as vaccines, but when it has faded, will not prevent disease. The purpose of the series of boosters is to ensure that the puppy or kitten is protected against disease during the window of time where maternal immunity no longer is protective.
The second core vaccine is rabies, which is generally given at 4 months. This immunization is extremely important to protect the public from rabies exposure.
Leptospirosis is also a core vaccine for dogs in Perth County, due to the number of cases contracted from local wildlife.
Lifestyle-specific vaccines
Feline leukemia vaccine may be appropriate for kittens that may have exposure to other cats outside. Prior to immunization, they are ideally tested for feline leukemia virus.
Bordetella (kennel cough) is recommended for dogs at risk of exposure through boarding, grooming, dog parks or public dog interactions
Lyme vaccination may be appropriate for dogs travelling to areas in Ontario where there is a high risk of Lyme disease transmission from infected ticks
Vaccines may not be protective unless they are correctly administered at the appropriate intervals. There are vaccine guidelines that form the basis for your veterinarian's recommendations for which vaccines should be given to your pet. These recommendations change based on your pet's age, risk of exposure, health and history of vaccine reactions. There is a small risk of vaccine reactions, ways to minimize these risks can be discussed with a veterinarian. Titers, a blood test that evaluates a pet's antibody level, may be discussed with a veterinarian as well.
For additional information, please check out the "Vaccinating Your Pet" section on the Ontario Veterinary Medical Association website: https://www.ovma.org/pet-owners/basic-pet-care/pet-health-101/ or talk to one of our team members at Mitchell Veterinary Services or Pauly Veterinary Clinic.
Recommended blog
What Happens at My pet's Annual Visit to the Doctor's Office?