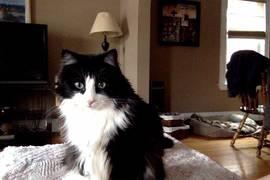 July 15th is National Pet Fire Safety Day. This is the perfect time to prepare a fire safety plan and review some tips to prevent an accidental house fire. The National Fire Prevention Association (NFPA) reports that nearly 1,000 house fires every year are started by pets. Pet deaths related to fires are mostly due to smoke inhalation.
Ensure all smoke alarms are in good working order and change batteries regularly. Include all family members when developing a fire safety plan so everyone knows what to do in case of an unexpected fire emergency. In households with multiple pets, each family member can be delegated a pet to be responsible for. Practice escape routes with your pets. Leashes can be left by the door for quick access. Ensure all pets have a collar with ID should they become loose during a fire escape. When pets are left unattended at home, placing them in a confined area/room near the entry door can limit potential fire-starting hazards.
Local fire stations provide window stickers to alert firefighters of the presence of pets.
Ensure candles or any open flames are never left unattended. Pets are naturally curious and can harm themselves or start a fire as a result.
The NFPA reports that stoves and cook tops are the #1 cause of house fires started by pets. Stove knobs can either be removed or covered if pets are able to reach them.
Exposed electrical cords can be seen as chew toys for pets so if possible hide cords behind furniture or unplug them if pets are left unattended.
By taking some time to ensure your home is fire safe and implementing a fire safety plan for your furry family member, you can rest assured that should a fire develop within your home your pets will be safe.
Our team at Mitchell Veterinary Services and Pauly Veterinary Clinic hope that these tips help keep your pets and home safe from fires.