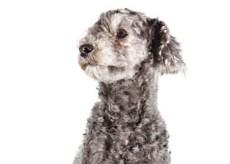 Most people stay away from a dog that is growling and lunging; however, there are still countless dog bites every year, many of which are described as "unprovoked". As a community, we have raised awareness of the risk of rabies after a dog bite and we talk about the importance of socializing your puppy and training it. There is still a gap in educating the public that ALL dogs are at risk for biting people. For those with a farming background or experience with horses, this is comparable to saying, "I will never stand directly behind a horse, because all horses are at risk for kicking". Any breed of dog can bite if it feels threatened, whether it is considered to be a friendly family breed or not and whether it has a history of aggression or not. This message cannot be repeated enough.
The next point is that the overwhelming majority of bites are not random but are provoked by a stimulus to the dog. Children are the most common victims of dog bites and unfortunately, are the most likely to be seriously injured. Children are often bitten by familiar dogs. For example, the stimulus could be a fast, erratic motion that makes a dog feel threatened or guarding of a valuable resource, such as a rawhide.
Apart from bite prevention through management (baby gates to separate a dog from a young child) and active supervision, the key is recognizing that the dog is uncomfortable and it needs more space. Dogs communicate through body language and generally there are subtle cues that precede a bite. Dogs generally bite as a last resort and only after their threshold of stress/anxiety/fear has been crossed. Here are some calming signals that a dog may give to show they are uncomfortable with an interaction:
Gaze aversion (avoiding eye contact and you can see the whites of their eye)
Yawning
Lip licking
Freezing in place
Whining
Scratching itself
Sniffing the ground excessively
Be your dog's advocate, if you are in a social situation where your dog is giving these signals in the presence of another person, speak up and ask them not to pet your dog and remove your dog from the situation if appropriate. Dogs can be overwhelmed in new places, with new people or with children that crawl or try to pet them. It is important to educate children how to approach dogs and that dogs do not enjoy being kissed and hugged.
If you would like more information, speak with your veterinarian and check out these sites:
http://www.mitchellvets.ca/2015/03/06/mitchell-veterinary-services-looks-at-how-to-keep-children-safe-around-dogs/
https://www.avma.org/public/pages/Dog-Bite-Prevention.aspx
Infant bitten in "unprovoked attack" by family dog: What can we learn?