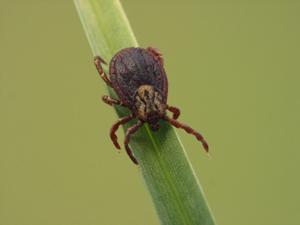 What are Ticks?
Ticks are external parasites that feed on blood.
They attach by their head and engorge by ingesting blood. Once they are engorged they fall off and lay eggs.
Where do Ticks live?
Primarily in grassy fields, low-lying underbrush, near water (including swamps), and urban areas
Increasing in population in Perth County
Endemic in Point Pelee, Rondeau Provincial Park, Turkey point, Long Point, Prince Edward Point, Thousand Islands, Pinery Provincial Park, Rouge Valley, and Wainfleet Bog Conservation area.
When are Ticks out?
They are out as soon as it is 4 C weather, but they peak in early spring and late fall.
Species of Ticks seen in Ontario
Deer Tick:

This is one of the most common ticks seen in Ontario today.
They transmit Lyme Disease to animals (deer, dogs, and cats) and humans
There have been a few Lyme positive dogs in Perth County!

Brown Dog Tick

More common in Eastern Ontario
Carries Borrelia, and Rocky Mountain Spotted Fever
How do they transmit their diseases?
Ticks will bite and transmit bacteria from their saliva.
The bacteria in the saliva will infect the host
Majority of dogs will not show symptoms, but a few will. The symptoms are:

Fever
Decreased energy
Swollen Lymph nodes
Decreased appetite
Limping
How are the infections treated?
They are treated with an aggressive course of antibiotics
Untreated can cause kidney damage
Prevention
Comb through your pets fur if playing in wooded areas
Medication from your Veterinarian – from March to December (your animals should be on prevention through this time)
Talk to one of our team members at Mitchell Veterinary Services or Pauly Veterinary Clinic or search our website for more information on ticks and Lyme disease if you have any questions.