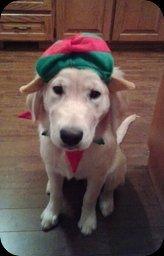 As the holidays approach, so do the hazards of Christmas. There are many ways to keep your fur baby safe this holiday season; below are a few things to keep in mind:
Secure the tree – Anchor the tree down so those curious pets aren't able to move it or pull it down.
Ornaments – Cats and dogs are very curious by nature; try to avoid tinsel and ribbons, and keep lights away from your pets. Strings, ribbons, and tinsel are a serious hazard for cats and if they get swallowed they can cause serious injury or worse yet they could get stuck in your pet's GI tract. Keep lights secured away from pets that will chew at them. A baby gate might be a good way to keep them away from the tree and any harmful ornaments.
Leave human food for humans to consume – During this holiday season, it is best to keep human food away from your furry companion. Although it may be nice to give a piece or two of turkey to your pet, it can upset its GI tract and cause you further problems. Sweets, chocolate and other sugary snacks may taste great, but are not good to give to your pets. They will cause a big stomach upset and chocolate is toxic to dogs. Everyone loves cocktails during the holiday season but it is best to keep these away from curious "thirsty" pets!
Holiday plants – They may look good, but did you know that holly, mistletoe, lilies, and cyclamen are actually toxic to both cats and dogs? Poinsettias on the other hand, aren't toxic, but they will cause digestive upset. If you do have these plants around the house this holiday season, it's best to keep them somewhere that your pet can't access.
Wrapping presents – Its fun to have your fur babies help with wrapping presents; however bows, ribbons, and strings can be a serious hazard. As already mentioned (especially for cats), ribbons and bows can be a fun thing for pets to play with, but not good if they swallow them. If you are looking for appropriate toys this holiday season, browse on My Vet Store for some options!
Holiday glow – Candles look beautiful, but if they are in reach of curious noses or paws they can be very dangerous!
A safe haven – As we already know, Christmas is a time of celebration and usually a lot of family and friends come to visit. You may love having people over and socializing, but sometimes our pets don't. Have a room set up for them to be able to get away from the holiday stress and to be able to have a rest (without constant attention).
Our team at Mitchell Veterinary Services & Pauly Veterinary Clinic hope these tips help your family have a safe and Merry Christmas!