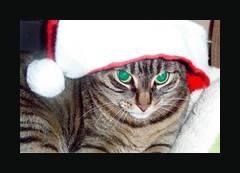 As we leave 2015 behind and look forward to a brand new year, we just wanted to take a moment to appreciate our pets and also thank you, our clients, for your patronage.
At the risk of sounding nostalgic, for "auld lang syne" (which is old Scottish for "old times" sake), we remember our patients that are no longer with us. Part of the beauty of having an animal companion is their unconditional affection. Despite their shorter lifespan, the impact a pet can have on your life cannot be overstated.
As we see puppies and kittens during their first appointment that grow into adulthood and then become seniors, our hearts are touched by them, knowing they hold such an important role in their families' lives, for whatever length of time they are with them.
We are blessed to have our clients share this special human-animal bond with us. We just wanted to say thanks!
May the New Year bring joy, good health and prosperity to you and your loved-ones, from the staff at Mitchell Veterinary Services.