Welcome to Mitchell
Veterinary Services
Your local veterinary hospitals in Mitchell & Milverton Ontario.
Small Animal Services
We offer Wellness, Preventive, and Surgical care.
We also offer a small animal mobile vet
service accredited by the College of Veterinarians
of Ontario to accommodate your needs. 
View the full list of services below.
Emergency Services
We're now offering after-hours consultations
with an Ontario licensed veterinarian through a new
partnership with Smart.Vet.
Ontario Wildlife Rescue
Through a network of rehabilitators and wildlife
rescue centres across Ontario we try to save
as many wild animals as possible.
Our Mission
Small Animal:
Consistent, compassionate care for your pets.
Large Animal:
Ensuring your herd's health builds your success.
We Welcome New Clients
We are currently welcoming new clients to our practice in Mitchell, ON. By joining Mitchell Veterinary Services we guarantee that you will not be disappointed with the level of service you will receive. To get started simply get in touch with us! You can call or email our clinic and one of our friendly staff members will be more than willing to help you.
Learn More
Our Story
Mitchell Veterinary Services was established in 1984 and has grown from a one veterinarian practice to a multi veterinarian business. We offer up-to-date service in a welcoming modern facility.
Client Education
Pet Health Library
We have over 1,200 articles written by veterinary professionals on a wide range of topics. Want to learn more about a specific breed or illness? You can do so easily by searching through our articles!
Browse Articles
Pet Health Checker
Pet feeling blue? Quickly and easily find out the severity of your cat or dog's symptoms using our Pet Health Checker tool. If you're unsure of the results, please don't hesitate to give us a call!
Use Checker
How-To Videos
Need some helpful tips for your cat or dog? We have a series of videos that can help. From learning the correct way to brush your cat's teeth, to administering ear drops to your dog!
View Videos
Get in Touch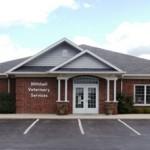 Hours of Operation
Monday: 8:00am-6:00pm
Tuesday: 8:00am-6:00pm
Wednesday: 8:00am-6:00pm
Thursday: 8:00am-8:00pm
Friday: 8:00am-6:00pm
Saturday: 8:00am-12:00pm
Sunday: Closed