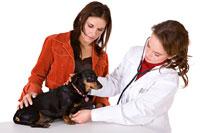 If your pet becomes injured or sick after our regular hours we feel your pet's emergency medical needs will be better serviced with a full complement veterinary team. Our sister clinic Coventry Animal Hospital will be open Tuesday – Thursday until 8 p.m. if you pet needs immediate attention. After hours please call London Regional Veterinary Emergency & Referral Hospital at 519-432-3300. They are open 24 hours a day, 7 days a week, year round and are fully staffed and equipped to handle most emergencies. See large map below for directions.
or
Emergency Veterinary Clinic of Waterloo at 519-650-1617. Get Directions
Business Hours
Tue – Thu –
Friday –
Sat – Sun Open 24 Hours
They are also open 24 hours a day on all statutory holidays.
or
Animal Hospital of Cambridge Emergency 519-624-9760. They are open 8 a.m. to 9 p.m. 7 days a week (excluding stat holidays). Get Directions