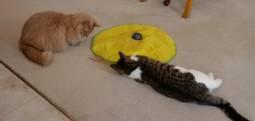 Here are some suggestions that Dr. Justine has explored with her own pets:
Play a game of "find it" – hide a favourite toy or treat somewhere in the house and ask your pet to find it
– If this sounds too hard, let you pet watch you hide a large toy somewhere very easy, like under a blanket or in a low cardboard box.
– If this sounds too easy, you can start hiding it on vertical surfaces (like scratching posts or book shelves) for cats or on different floors in the home or the yard.
– Make sure to lavish your pet with praise when he is successful; if you're using a toy, play with your pet once he find it, or reward him with something delicious.
Play a foraging game – this allows your pet to fulfill its instinct to find its own food by using its nose. This game can be very satisfying for your pet mentally and helps to tire her out.
a) Use a "snuffle mat", which is basically a rug with lots of hiding spots to place kibble or treats
– You can buy one or make one using DIY videos on YouTube.
b) Throw kibble (or place pieces strategically) on the floor or on the lawn.
c) There are also commercial puzzle games on the market, with compartments to hide food.
– Kong brand offers lots of food toy options, as does Nina Ottosson .
This is an animal training method that involves marking desirable behaviours and rewarding them (with a click sound, followed by a treat).
Over time, you can use this technique to teach your pet to do a variety of tricks, from asking your cat to sit to asking your dog to dance. It seems that the sky's the limit!
Canine Conditioning
– Stretching and improving flexibility is important for all ages of dogs to limit risk of injury.
– Check out these 5 basic exercises essential to building core strength
– If you are going to explore using fitness equipment, such as FitPaws, please seek the guidance of a Canine Rehab professional.
Online Courses and Videos
In this age of the internet, courses that teach pet owners are available online, whether you are looking for obedience or dog sports: https://fenzidogsportsacademy.com/
Here are some tricks that you can teach your dog:
https://mccanndogs.com/videos
https://dogmantics.com/dog-tricks/
If all else fails and it's a really hot day, maybe just consider freezing a large ice cube for your pet to lick and play with.
So, from Mitchell Veterinary Services, have fun staying cool with your furry pals!