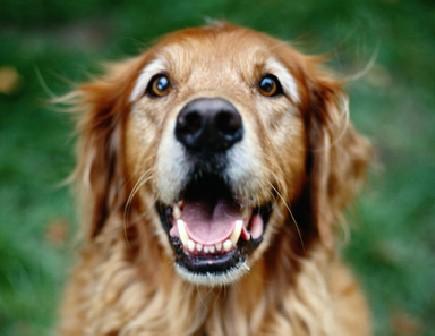 Aging pets experience changes in the brain that can manifest as signs of senility (also known as cognitive dysfunction).  Canine and feline cognitive dysfunction is likened to Alzheimer's or dementia in people.  Cognitive dysfunction is associated with decreased levels of the neurotransmitter dopamine.  Age is also associated with smaller brain size, the accumulation of beta-amyloid plaques on the brain and decreased blood flow to the brain.
Pets with cognitive dysfunction may have behavior changes that progress so gradually that you may not realize that they are occurring.
Signs of cognitive dysfunction include:
Disorientation/confusion (getting lost in their home)
Wandering, staring or pacing
Getting stuck in a corner
Dogs barking or cats crying at nothing
Anxiety and restlessness or irritability
Loss of house-training (having accidents in the house)
Forgetting commands
Dogs drooling or licking obsessively
Changes in sleeping cycles (waking up in the middle of the night or sleeping unusually deeply during  the day)
Changes in social interactions (increased attention-seeking, becoming more aloof or aggressive)
These behaviours can be compounded by the fact that some senior pets also have a decrease in hearing and vision. They may also seem grumpy or reluctant to interact with their family if they have other medical conditions, such as arthritis, diabetes or kidney disease.  Other diseases should be ruled out or treated if they are present.
The surprising thing about cognitive dysfunction is that we have some capacity to improve its symptoms and slow down its progression. Therapies include:
1)      Senior supplements or diets that contain anti-oxidants and vitamin complexes
  S-Adenosylmethionine (SAMe)
2)      Nutraceuticals for anxiety
3)      Environmental enrichment
Grooming and touch
New toys, interaction and games for mental stimulation
All the while providing routine to your pet
4)      Behaviour modification medication
Teaching an old dog new tricks is actually a good idea to maintain your pet's cognitive function. Wellness exams are recommended every 6 months to catch health problems early.  Ask your veterinarian whether there are some tools that you could be using to improve your senior's mental wellbeing.
Suggested Reading