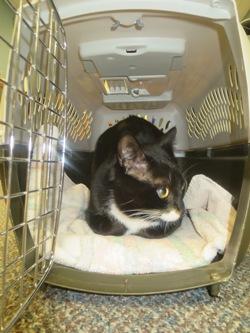 Transporting cats can often be a stressful event for both you and your cat.  Here at Mitchell Veterinary Services, we can offer some tips for reducing your cat's stress and create a pleasant visit for you and your cat.
The first tip is to understand your cat's behaviour.  Cats need time to scope out new situations, people, carriers, and their surroundings.  Stay calm and move slowly while they are becoming familiar with new things.  Use tasty treats, petting and play to encourage your cat to come near the carrier.  Place familiar soft bedding in the carrier prior to the veterinary visit so your cat can sleep there in the quietness of its own home. 
To make your cat's trip pleasant and safe, use a carrier.  Put the carrier in a small room with few hiding places and then bring the cat into the room and close the door.  Hard-sided carriers that open from the top are best because the top half can be removed.  You can offer treats or toys to entice your cat to walk into the carrier or your cat can be simply cradled and lowered into the carrier.
Some cats get anxious for the car ride.  A blanket placed over the carrier for privacy can help with the adventure.  The carrier should be secured with a seat belt.  In the rare case that the previous tips have not been successful then contact your Mitchell Veterinary Services Team and we can continue to help you create at pleasant experience for you and your cat.